When:
May 21, 2018 @ 3:00 PM – 4:00 PM
2018-05-21T15:00:00-04:00
2018-05-21T16:00:00-04:00
Where:
Sinclairville Free Library
15 Main Street
Sinclairville
NY

Join local Young Adult Fiction author, J. Andersen, for a Writing Workshop & Peer Critique.
Andersen likes to write books for teens, but doing so means slaying the dragons of procrastination while trudging through piles of laundry to make it to the computer. This mom may be a story engineer by day and a world builder by night, but that doesn't mean she can ignore making dinner or bringing her kids to sports practices or music lessons. Never fear, a coffee in one hand and a pen in the other allows her to write whenever inspiration hits, and her work with the School of the Arts, a youth band and music program, gives her plenty of fodder for story ideas.
You can find more information on J. at www.jandersenbooks.com, www.facebook.com/jandersenbooks, www.instagram.com/jandersenbooks, or www.twitter.com/jvdlandersen
Book links:
The Breeding Tree: https://www.amazon.com/dp/B06XVT6ZP5
The Gene Rift: https://www.amazon.com/dp/B07553H11Q
At What Cost: https://www.amazon.com/dp/B008BEDPPO
Lemons: a short story: https://www.amazon.com/dp/B00IEMMNY2
THIS EVENT WAS FUNDED IN PART BY POETS & WRITERS, INC. WITH PUBLIC FUNDS FROM THE NEW YORK STATE COUNCIL ON THE ARTS WITH THE SUPPORT OF GOVERNOR ANDREW CUOMO AND THE NEW YORK STATE LEGISLATURE.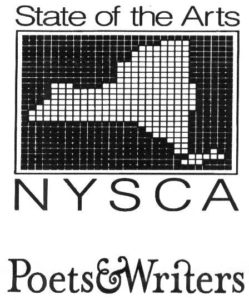 J. Andersen Writing Workshop & Peer Critique