When:
July 23, 2019 @ 12:00 PM – 1:00 PM
2019-07-23T12:00:00-04:00
2019-07-23T13:00:00-04:00
Where:
Park United Methodist Church
Sinclair Drive
Sinclairville NY
Contact:
Jessica Huling
(716) 962-5885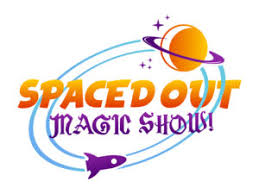 Join us for a Wacky Space-Themed Magic Show
Wacky Magician Cris Johnson presents 'the Spaced Out Magic Show!' Using a wacky teleportation device, kids cause milk to transport across the room, gross Martian juice is created from one child's shoe, a drawing of a space alien comes to life, and much more! Cris even shows up dressed in an astronaut's uniform. Plus, each child attending will receive a free magic trick.
Free and open to the public.
Free lunch starting @ 11 am.
This event if provided free to the community in collaboration with the Mary E. Seymour Memorial Library and Cassadaga Branch Library