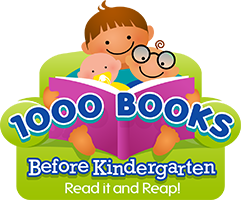 A Book a Day… 1'000 Books Before Kindergarten
An Early Literacy Program for Birth – Pre-K 
Here's how the program works:
Commit to reading 1,000 books to your child before they enter kindergarten to build necessary pre-reading skills in your child and foster a love of reading.
Register at the library or click here. Receive/pick up your start-up package.
Color or mark an apple for each book you read. You may read as many books a day as you wish and count them all. if you read the same book again, count it again.
Bring each completed sheet of a hundred books to the library and your child will place an apple sticker on that tree poster.
Your goal is to finish before your child enters kindergarten.
When you finish, your child will receive a ribbon and a free book.
If you read one book at bedtime each night, you will read
1, 095 books in just 3 years!
We have read 1'000 Before Kindergarten!!!
| | |
| --- | --- |
| Madalynn H. | Aurea K. |
| Ileana K. | Liam S. |
| Carson S. | Wyatt F. |
| Jaylee F. | Kadence F. |