Would you like to help support your local library? There are many ways to "support" the library. Please contact the library director, Beth Hadley at director@sinclairvillelibrary.org, with any questions.
CONTACT YOUR LOCAL LEGISLATORS!!!
Here is a document to help say why the library is important to them. You can call. You can email. You can even use snail mail. The more positive contact that they receive about libraries helps them as they advocate for library funding.
Ways to Support the Library:
Join our Ways & Means Committee. The Ways & Means hosts our annual Bake Sale, Plant Sale and Book Sale. Volunteers are always needed.
Join in the FUNdraisers. Host a table at our Annual Tea Party, buy tickets for basket raffles (held throughout the year), dine on delicious chicken BBQ at the History Fair and spend time reading during our Read-A-Thon.
Donate Books. The library accepts gently used books and DVDs published with-in the last ten years. Donated items not used for our circulation collection may be used for our annual book sale.
Volunteer. Our library could not function without our wonderful volunteers. Volunteers can help out in many ways, from shelving books to shoveling snow.
Host an Event. Do you have a special skill or interest? You can host an event to share your "superskill" with our community.
Get Involved in Local Politics. Sometimes, no matter how much you use and support your library, it still feels like it's not enough. But you don't have to run for political office to have your say in politics. Voting in local elections certainly helps, but if you want to get involved year-round, consider becoming a Library Board member.
Donate. We are counting on your contribution to help the library continue to provide the services and programs that our community relies on. Thank you to the Village of Sinclairville and Towns of Charlotte and Gerry for your ongoing support. Please join us in keeping this library an important part of serving these communities
Ask Questions, There's one small way you can support your library: ask questions. Libraries must constantly prove their value to receive funding, and one of the ways they do that is by recording the number of questions they are asked by patrons.
Donate using PayPal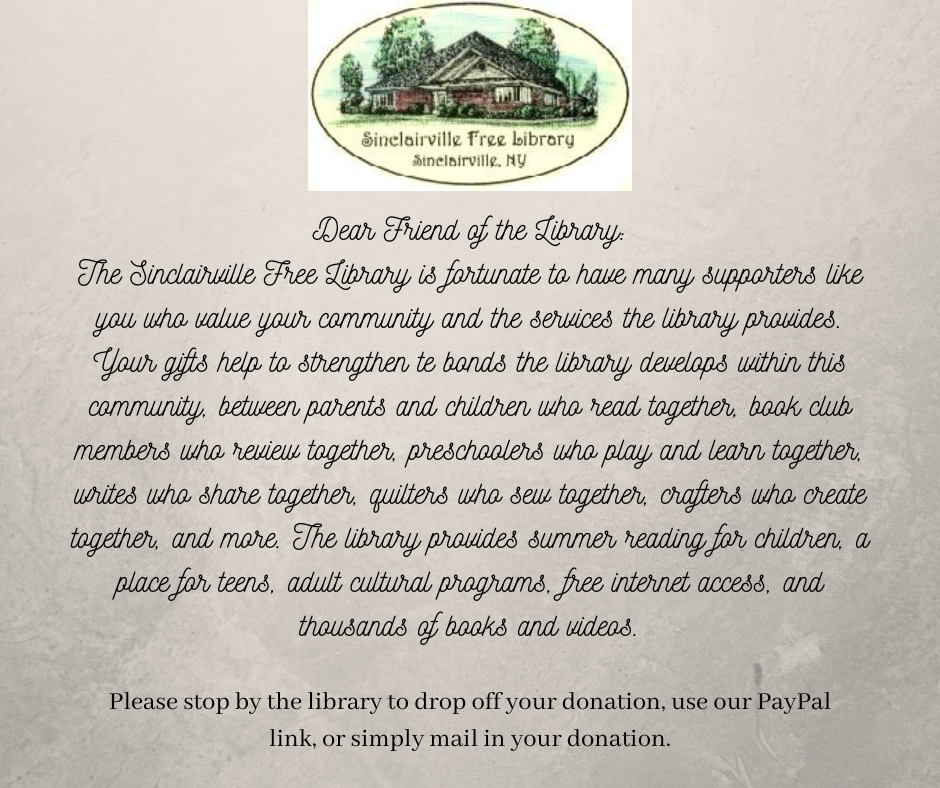 Wow! We are truly honored by the support we received from our community and patrons.
You all helped us raise over $1390 during GiveBig CHQ 2022.
Thank You for Your Wonderful Donation!!
Four Anonymous Donors
Clark & Marilyn Zlotchew

Jeff Embury

Donna Kibbe Sewell

The Huling Family

Debra Triscari

Erin Gray

Donna Kibbe Phillips in memory of Bessie Kibbe

Real Life Legacies

Peter & Peggy Skillman

Tami Berg in memory of Pama LaBarron

Karen Oberst

Larry Barmore in honor of our staff

Darla Frost-Kianos in honor of our staff

Beth Hadley in memory of Grandpa & Grandma Mac

Grant Blue

Catherine Obert

Joan Stroh

The Telford's

Judy White

Kathy Schroeder

Roz and Bill Newton in honor of our staff

Marsha

Lauren Swanson
GRANTS AND SPECIAL FUNDING
American Library Association (ALA): Libraries Transforming Communities Focus on Small and Rural Libraries Grant
Chautauqua-Cattaraugus Library System Adult Literacy Grant 2021
Chautauqua-Cattaraugus :Library System Outreach Mini-Grant: Diversity Theme 2021-2022.
Chautauqua Cattaraugus Library System Grant: Digital Skills Outreach to Seniors 2022-2023
Northern Chautauqua Community Foundation: Community Grants Program 2021 – 2022
Pilcrow Foundation: Children's Book Project 2019 – 2020