When:
March 15, 2019 @ 2:00 PM – 3:00 PM
2019-03-15T14:00:00-04:00
2019-03-15T15:00:00-04:00
Where:
Bergquist Library at the Homestead in Gerry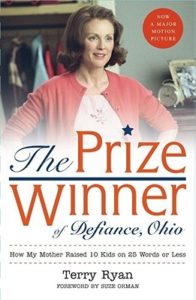 "The Prize Winner of Defiance, Ohio: How My Mother Raised 10 Kids on 35 Words or Less" by Terry Ryan
Copies are available thru the library system. This event is open to the public.
The Prize Winner of Defiance, Ohio introduces Evelyn Ryan, an enterprising woman who kept poverty at bay with wit, poetry, and perfect prose during the "contest era" of the 1950s and 1960s. Standing up to the church, her alcoholic husband, and antiquated ideas about women, Evelyn turned every financial challenge into an opportunity for innovation, all the while raising her six sons and four daughters with the belief that miracles are an everyday occurrence. The inspiration for a major motion picture, Evelyn Ryan's story is told by her daughter Terry with an infectious joy that shows how a winning spirit and sense of humor can triumph over adversity every time.
Book Club @ The Homestead