Dec
16
Fri
Book Club @ The Homestead

@ Bergquist Library at the Homestead in Gerry
Dec 16 @ 3:00 PM – 4:00 PM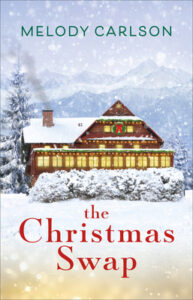 "The Christmas Swap" by Melody Carlson
Copies are available thru the library system.
All Emma Daley wants this holiday season is a white Christmas. But the young teacher and struggling musician sure can't find that in sunny Arizona. Luckily, there's someone living in a perfect mountain home in the Colorado Rockies looking to make a vacation trade this year.
Tyler Prescott is an in-demand songwriter and talented musician who put his own singing career on hold to write songs for celebrity acts to perform. When his mother convinces him to do a vacation trade for Christmas, he never imagined one of the houseguests would be so sweet–or so strikingly pretty. Naturally, he decides to stick around, and, to get better acquainted, he poses as the house's caretaker. But when Emma's friend Gillian discovers his true identity and sets her sights on him, things
get . . . messy.
Fan favorite Melody Carlson is back with another delightful Christmas tale to warm your heart on those cold winter evenings.
Dec
19
Mon
Books Unlimited Adult Fiction Book Club

@ Sinclairville Free Library
Dec 19 @ 7:00 PM – 8:00 PM
"A Christmas by the Sea" by Melody Carlson
Copies of Book Club titles are available thru the library system..
When Wendy Harper inherits her family's beachside cottage in Seaside, Maine, she sees it as a way to finally pay off the debts that have mounted since her husband died. But before it can be sold, the neglected property must be renovated. She and her 12-year-old son Jackson move in–temporarily, she reminds him–in order to do the work themselves, even though Christmas is coming. The charming town, along with local craftsman Caleb Colton, pulls on both Wendy and Jackson, who even registers himself for school in a bid to get his mom to move them there permanently. Wendy knows that the most responsible thing to do is to sell the cottage and return to Ohio, but the lure of the sea is hard to resist.
Join award-winning author Melody Carlson for a Christmas story that will warm your heart and have you dreaming of your own enchanted seaside holiday.
Visit Event & Program Registration to register and reserve a copy of the selected title.
Pre-registration is not required for this event.