When:
October 26, 2020 @ 6:00 PM – 7:00 PM
2020-10-26T18:00:00-04:00
2020-10-26T19:00:00-04:00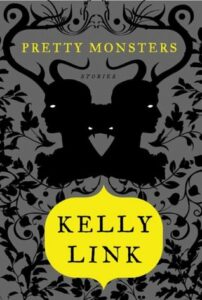 "Pretty Monsters" by Kelly Link   ***2020 BIG READ***
Copies of book club title are available thru the library system. Contact us at info@sinclairvillelibrary.org to request your copy. This title is also available as an ebook on Libby/Overdrive.
Kelly Link has lit up adult literary publishing, and Viking is honored to publish her first YA story collection. Through the lens of Link's vivid imagination, nothing is what it seems, and everything deserves a second look. From the multiple award-winning The Faery Handbag, in which a teenager's grandmother carries an entire village (or is it a man-eating dog?) in her handbag, to the near-future of The Surfer, whose narrator (a soccer-playing skeptic) waits with a planeload of refugees for the aliens to arrive, Link's stories are funny and full of unexpected insights and skewed perspectives on the world. Her fans range from Michael Chabon to Peter Buck of R.E.M. to Holly Black of Spiderwick Chronicles fame. Now teens can have their world rocked, too!
We will be meeting via the website Jitsi. Please contact Beth Hadley at director@sinclairvillelibrary.org.
Join the meeting:
https://meet.jit.si/SFLBookClub
To join by phone instead, tap this: +1.512.402.2718,,1827391751#
Virtual Adult Fiction Book Club