When:
September 21, 2020 @ 6:00 PM – 7:00 PM
2020-09-21T18:00:00-04:00
2020-09-21T19:00:00-04:00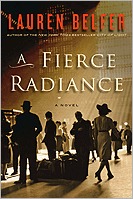 "A Fierce Radiance" by Lauren Belfer
Copies of book club title are available thru the library system. Contact us at info@sinclairvillelibrary.org to request your copy. This title is also available as an audiobook on Libby/Overdrive.
Set during the uncertain early days of World War II, this suspenseful story from the New York Times bestselling author of City of Light follows the work of photojournalist Claire Shipley as she captures America's race to develop life-saving antibiotics—an assignment that will involve blackmail, espionage, and murder.
We will be meeting via the website Jitsi. Please contact Beth Hadley at director@sinclairvillelibrary.org.
Join the meeting:
https://meet.jit.si/SFLBookClub
To join by phone instead, tap this: +1.512.402.2718,,1827391751#
Virtual Adult Fiction Book Club