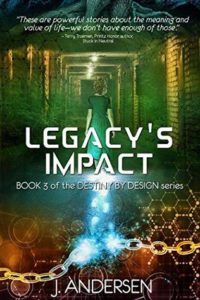 "Legacy's Impact"  by J. Andersen
Copies available thru the library system and for purchase ($15)
Local author discussion and book signing.
Kate's genes say she's a rebel; will her heart tell her the same?
Katherine Dennard was supposed to go back to a perfect life in The Institute with her fiancé, Saul Goodman, but her amnesia is making that wonderful life harder than she hoped. When that crazy guy, Micah Pennington shows up and tells her everything she knows is a lie, she doesn't know who to trust, but one thing's for sure: it isn't Micah. The thing is, Micah might be crazy, but Saul is definitely hiding something.
Kate must sift through the mysteries of her past to uncover who she is, but unraveling the truth unearths secrets that threaten to destroy the only life she can remember. If Kate can't remember who she was, how can she figure out who she's supposed to be?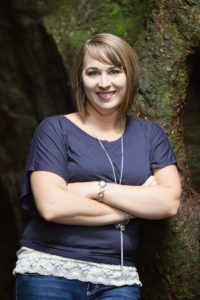 J. Andersen likes to write books, but doing so means slaying the dragons of procrastination while trudging through piles of laundry to make it to the computer. This small town, stay at home mom and former English teacher may be a world builder by day and a superhero by night, but that doesn't mean she can ignore making dinner or driving the kids to music lessons. She also works as the Director of Author Services for Brimstone Fiction and is the Author Care Manager for Burnett Young Books.
Twitter: www.twitter.com/jvdlandersen
Facebook: www.facebook.com/jandersenbooks
Instagram: www.instagram.com/jandersenbooks
Young Adult Fiction Bookclub